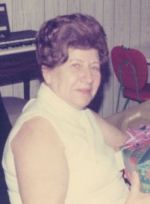 My grandmother, Stella Jelewski (nee Muszynski), was born on April 26, 1909, and passed away on October 17, 1990. I knew I missed her dearly, but didn't know to what extent until I was creating this roombox for my mom for Mother's Day 2001.
The house Grandma and Grandpa lived in had been in my Grandfather's family since the 1890's, and both lived in the home from that day until my Grandfather's death in 1999. Grandma and Grandpa (Ray) were married on August 21, 1940 (and because of this, the clocks in the kitchen set to 8:21).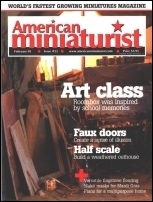 Grandma's Kitchen was featured in the
February 2005 issue of American Miniaturist

Grandma and Grandpa on their wedding day, August 21, 1940,
and at a church social in the mid 1970's.
Grandma's kitchen was a favorite room at her home at 83rd and Burley on the far southeast side of Chicago. Grandma (like most grandmothers) loved to cook and bake. Of course, everything she made was always better than anyone else's! I remember her making me something simple, such as a grilled cheese sandwich. Now when my mother made me a grilled cheese sandwich, the exact same way mind you, I used to tell my mom that her grilled cheese was not anywhere near as good as Grandma's. To both me and my younger brother, Grandma just had that "special touch".
This roombox had been in the making for two years, when I started purchasing items I saw that were in my Grandma's kitchen. Over that time, I had picked up items here and there, planning all along to give the roombox as a gift to my mother so she could reminisce about her mother's kitchen. I knew I had done something special when my project was almost complete, and I had placed everything in the roombox except the doll representing Grandma. As soon as I put the doll in the roombox, it brought tears to my eyes remembering what a wonderful person my grandmother was and how she made everyone love her instantly. She has been gone for over 14 years now, but I will guarantee that no one will ever forget her smile, kindness or love... especially me and my mother.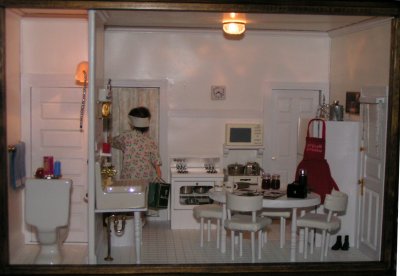 | | |
| --- | --- |
| | A "lady friend" and Grandma. |

| | |
| --- | --- |
| | This is Grandma's table. I made it and the chairs by hand. On the table is Grandpa's lunchbox and thermos that he used to take to his job at the steel mill, seeds and gardening tools for Grandpa's garden next to the house, a couple jars of beets (which Grandma used to can regularly), a bible (Grandma and Grandpa were very religious people), tea mugs with "Stella" and "Ray" on them, and Grandma's favorite game, Solitaire, which although she won nearly every time, she NEVER used to "cheat"... :) |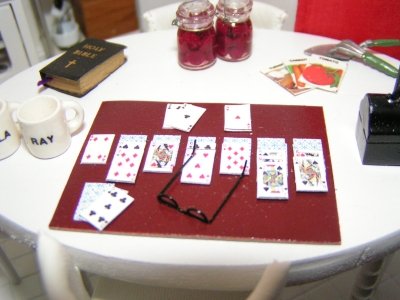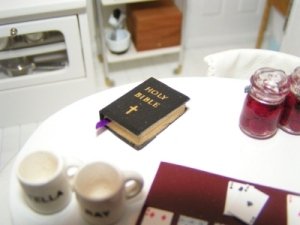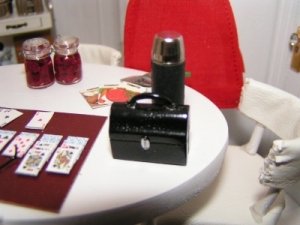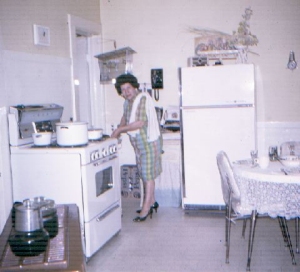 | | |
| --- | --- |
| | I can't remember what the bird's name was! |

| | |
| --- | --- |
| | Empty canning jars on top of the refrigerator, along with a watering can for Grandpa's garden, and a plaque depicting "The Last Supper" (check out the photo of Grandma in her kitchen and you'll see it!). |

| | |
| --- | --- |
| | Grandma's sewing table (the sewing machine "hid" underneath the table). She used a pillow case to conceal a portion of the sewing machine that was visible. The radio on the sewing table is on top of the fridge in the picture of Grandma in her kitchen. |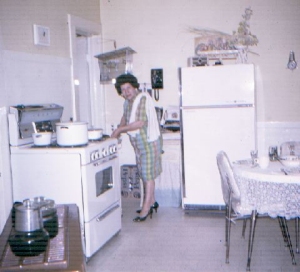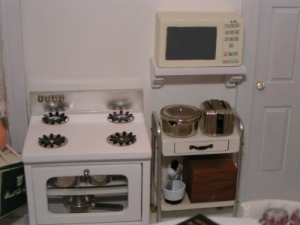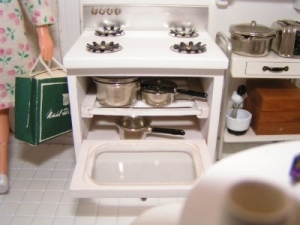 | | |
| --- | --- |
| | In the photo above, Grandma is using this little metal table to cut meat. The wooden box below contained her Sunday silver. |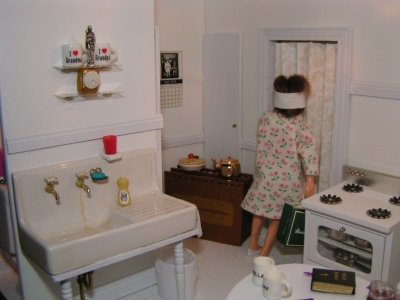 And here she is, The Champion of all Marshall Field's shoppers herself (at least I know where I got my shopping genes from). My mom and I used to say that Field's was going to go bankrupt after she passed away because their #1 shopper wasn't around. :)

In the Field's bag are... what else?... SHOES! My Dad used to call Grandma "Imelda Marcos" because she had more than 50 pairs of high heels alone, one pair to match each of her outfits. One thing for sure: Grandma was always looking sharp!


Photos taken in 1946 and 1969

On the calendar is a Halloween photo of me and my brother, Bob. The plaque hanging above the door on the left (see the photo below for a better view) now hangs in Bob's home.

On the heater is Grandpa's herbal tea from the health food store, and a homemade apple pie. Grandma's apple pie was always better than my Mom's (even though, once again, Mom used the exact ingredients and baked it the same way).

| | |
| --- | --- |
| | A young Muszynski visitor to Grandma's home |

| | |
| --- | --- |
| | Grandma used to call this the "water closet". No sink, no shower. You'd have to wash your hands and brush your teeth over the kitchen sink, and the shower was in the basement. And you had to go OUTSIDE to get to the basement. |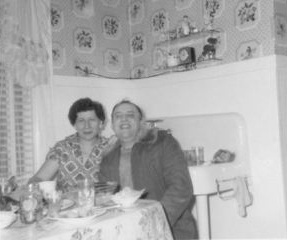 Grandma and Grandpa, about 1960.
This 1920's sink was probably the hardest for me to find in miniature because the sink is on the left-hand side. At the time, everyone seemed to make only double or right-hand sinks! I made the gold clock, shelves and cup holder (which isn't in the photo but was there at one point). I was lucky to find the "I Love Grandma" and "I Love Grandpa" mugs... these were gifts given to Grandma and Grandpa by me and my brother, and had been on the shelf above her sink for almost 30 years until my Grandfather passed away in 1999.

I hope you enjoyed visiting Grandma's kitchen. I know Stella is thanking you for visiting, too. :)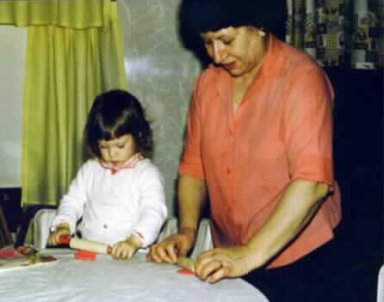 Me and Grandma baking (about 1967).